Home
What is TRAIN TRACK?
TRAIN TRACK® makes it easy to keep track of employee training, and always know what training is needed, expired, completed, or scheduled:
Assign required training based on any type of employee group.
Automatically send email alerts to tell employees and supervisors that training is due.
Set up classroom training or online exams with linked documents.
Track periodic re-training and document revisions.
Provide detail or summary reports for management with standard reports and custom report filtering. .
Import data from Excel®.
Multiple user access levels.
FREE Training on how to use TRAIN TRACK® is now included for all licensed subscription users.
View the complete feature list.
View our introductory video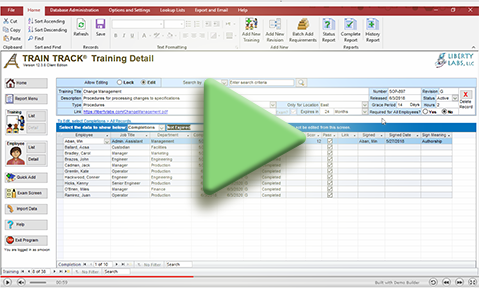 What our Clients are Saying
"Although [we are] a multi-billion enterprise, with many many systems in place, we find the easiest way to track employee competencies in the organization is via TRAIN TRACK®. The database fits nicely with into other our systems and doesn't take a huge infrastructure or a long learning curve to extract meaningful data. So far I've set up three TRAIN TRACK® Databases and each of the end users are very pleased."
Don L., Suriname
"...TRAIN TRACK® is an awesome database. I have worked in training for many years and I haven't seen any that are this good. Your pricing is remarkable as well!"
Brenda Jardine, DEW Engineering
"...just wanted you to know that your product has always been Heads & Shoulders above even the Big Boys of the industry."
George T. Lopac III
"TRAIN TRACK® is an excellent, robust, capable, flexible, and cost effective system to record and maintain records of company/employee activity as an Access® Data Base."
David C. Klugh, Training Manager, NuScale Power

"I love your product and your service and I will continue to brag about TRAIN TRACK® any where I can."
Sue Parker
"In the aviation industry there are a multitude of training requirements that employees must meet. Airports, airlines, and human resource managers are constantly tasked with maintaining a sharp, educated, workforce. I am proud to say that Liberty Lab's TRAIN TRACK® software has been the best software I have ever used in my career to train staff. The ease of use and great customer support are unparalleled by anyone. Thank you Liberty Labs!"
Jesse Fosnaugh – Branson Airport, Missouri
"This software has made a world of difference in how North Alabama tracks and reports all training of employees and contract staff. Because of this software, we believe we have set the standard within the State of Alabama mental health system for training documentation. Our most recent licensing and accreditation surveys have been a tremendous success in the areas of employee training and record-keeping thanks, in large part, to TRAIN TRACK®!"
Susan E. Szczepanski, Director of Staff Development
"I would like to thank you for developing the two reports for Fuller Austin. TRAIN TRACK® has proved to be a good program for our needs but with your support it is an excellent program."
Dean Forest, Fuller Austin
---
Who Uses TRAIN TRACK®?
TRAIN TRACK® is used by more than 12% of the Fortune 500 companies, and many other private, public, and government agencies, including:
Aviation, Military, Defense, and Weapons.
Banks, Finance, and Insurance.
Biotech, Laboratories, Pharmaceuticals, Medical Devices, Research, and Diagnostics.
Construction and Building Materials.
Energy Producers and Distributors.
Engineering, Robotics, Microelectronics, Information Technology, and Artificial Intelligence.
Food and Beverage Producers and Distributors, Agriculture, Grocery Retailers, and Restaurants.
Government Offices, Emergency Services, Forest Service, Job Corps, and Health Departments.
Hospitals, Hospices, Retirement Communities, and Residential Care.
Hotels, Casinos, and Convention Centers.
Logistics, Packaging, and Distribution.
Machining, Auto Parts, Metalworking, Fabrication, and Mining.
Manufacturing, Consumer Products, Health and Hygiene Products, and Retail.
Marketing and Business Services.
Municipal Water, Sanitation, and Utility Authorities.
Police Departments, Law Offices, Correctional Facilities, Security, and Courts.
Space Station Resupply.
Universities, Schools, Libraries and Publishers.
Zoos and Museums.
We have clients all over the world, including:
Afghanistan
Australia
Belgium
Bolivia
Brazil
Cambodia
Canada
Caribbean
Cayman Islands
Chile
China
Cocos Islands
Czech Republic
England
Finland
France
Germany
Gibraltar

Great Britain
India
Indonesia

Iraq
Ireland
Jamaica
Japan
Kazakhstan
Kenya
Kuwait
Malaysia
Mexico
Netherlands
New Zealand
Norway
Oman
Pakistan
Papua New Guinea

Philippines
Puerto Rico
Qatar
Russia
Saudi Arabia
Scotland
Singapore
South Africa
Spain
Suriname
Sweden
Switzerland
Thailand
Trinidad and Tobago
United Arab Emirates
United Kingdom
United States
Wales
We value the privacy of our clients and do not release client information without their consent. If you wish to speak with references, please let us know and we will contact a few of our clients to get permission to share their information with you.