Validation Package
TRAIN TRACK® Client/Server Edition and Web Edition have been fully validated according to industry standards. Validation is a formalized, documented process for testing computer systems and controlled processes. The FDA and other regulatory bodies require validation of computer systems to ensure that these systems are in compliance with all applicable regulations.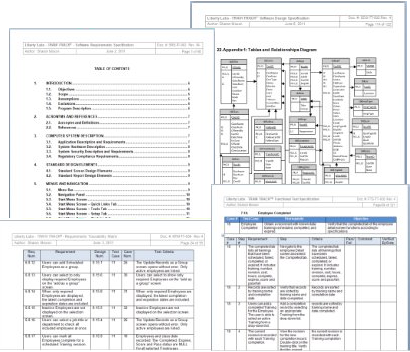 Validation was conducted by Quality and Compliance experts with extensive experience working with the FDA and other regulatory agencies.

The review team verified that TRAIN TRACK® meets all specified requirements.

The complete validation and design package, including all documentation, may be licensed separately and used as a template to conduct your own additional validation.
The Design Documents provide detailed information about the program architecture and logic. Our Validation Package includes complete documentation in both .pdf and open document formats. You may use the editable versions of the documents to conduct additional validation activities, and incorporate them into your own document control and quality assurance systems.
Validation Package Contents
• Software Requirements Specification (SRS): Describes in detail all of the required features of the software.
• Software Design Specification (SDS): Describes how the program carries out the required functions, and explains the architecture and logic.
• Functional Test Specification (FTS)/Installation and Operation Qualification (IOQ): Detailed installation qualification and test protocol with step-by-step testing instructions and test criteria to ensure that all requirements are met.
• Functional Test Specification (FTS)/Installation and Operation Qualification (IOQ) Sample Execution: Documentation of the execution of the test specification and actual test results.
• Requirements Traceability Matrix (RTM): A matrix tracing each requirement from the SRS to the SDS and FTS to ensure that all requirements are documented and tested.
• Validation Summary Report (VSR): Description of the validation process and conclusion.
Digital Validation Package License, Client/Server OR Web Edition: $699*, Both Editions: $899*
• License to use the documents to validate your licensed client/server or web application (each database requires a separate license).
• Support for conducting your own validation at your location.
• Digital copy of each document in an editable format.
• Digital copy of each document in a locked format.

Click here to purchase, or purchase together with your database license.

We also offer on-site validation to conduct a full validation at your location.
*Prices are US Dollars and subject to change without notice.
Background Information
Here are some links to more information about validation: